Trade Shows & Conventions
Free Massages Draw Attendees!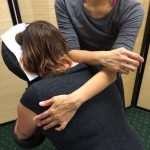 If you want to add chair massage to your trade show or convention, we are available as a well-organized, professional team of therapists ready to focus in on the needs of your attendees.
You can hire us directly to provide massage free of charge to your attendees, or we can work out a percentage arrangement from what we charge the public. Use our Instant Quote page to contact us for more information.
This will be the most talked-about vendor at your event. Chair massage relaxes, and relaxed patrons spend more money!